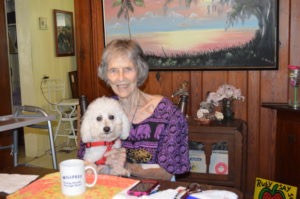 President Emeritus of the Will McLean Foundation, Margaret Longhill, is credited for her work helping to get the late Will McLean into the Florida Artists Hall of Fame. McLean (1919-1990), considered the "Father of Florida Folk," was inducted in 1996.
Shortly before his death, Longhill and some of McLean's closest friends were instrumental in establishing the Will McLean Foundation, dedicated to promoting the work of Florida folk artists and passing along the state's history through song for generations to come.  Longhill also spearheaded the creation of the Will McLean Music Festival.  The festival, a favorite for Florida songwriters, is held each March at the Sertoma Youth Ranch near Brooksville.
In January of 2016 multimedia producer Donna Green-Townsend sat down with Longhill to have a conversation about her efforts to keep Will McLean's legacy alive as one of Florida's premier songwriters and poets.