Aired on NPR's Morning Edition on December 13th, 1996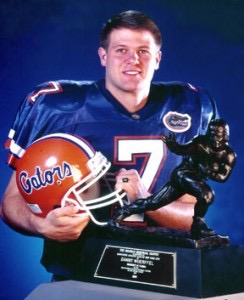 (Original Intro) In New York tomorrow (Dec.14th,1996) the Heisman Trophy will be awarded to the nation's top college football player.  One of the top finalists is Danny Wuerffel, the quarterback from the University of Florida who's helped the Gators win four consecutive Southeastern conference titles and a place in this year's Sugar Bowl.  But in his home state of Florida, Danny Wuerffel is known for being much more than just a great football player.  From member station WUFT in Gainesville, Donna Green-Townsend has this profile.
Audio clip: Adobe Flash Player (version 9 or above) is required to play this audio clip. Download the latest version here. You also need to have JavaScript enabled in your browser.
On December 10th, 2013 Danny Wuerffel was named to the 2013 College Football Hall of Fame Induction Class.   Voters said he had one of the most impressive records ever compiled.   Wuerffel was the only player in college football history to start at quarterback for a conference champion four straight years — plus win a national title and the 1996 Heisman.  In addition, Wuerffel, a two-time first-team academic All-American, was awarded the Draddy Trophy (also called the "academic Heisman") presented annually by the College Football Hall of Fame, to the nation's top football scholar-athlete.
And then there were his statistics.  In Wuerffel's career at UF he completed 60.5 percent of his passes for 10,875 yards, 114 touchdowns and 42 interceptions in starting 36 of his 46 games.
During Wuerffel's four seasons, Florida won four-consecutive SEC title games.  As a senior, Wuerffel's 3,625 yards passing yards were an SEC record.  He also set a national record for his 39 touchdowns.   In his final two games in a Gator uniform, Wuerffel threw for 401 yards and 6 touchdowns to beat Alabama (which at the time was the No. 1-ranked pass defense) for that fourth-straight league crown.   In the Sugar Bowl national championship rematch over rival Florida State, Wuerffel  threw for more than 300 yards and 3 touchdowns (also rushing for a TD) in a 52-20 victory against the top-ranked defense in the country
Danny Wuerffel on his Christmas CD Project to Benefit Desire Street Ministries
Aside from football, Danny Wuerffel has dedicated his time to the work of Desire Street Ministries.  Danny produced "Heaven & Nature Sings" Christmas CD to help with the goals of the ministry which is transforming impoverished urban neighborhoods into flourishing, healthy communities.
Audio clip: Adobe Flash Player (version 9 or above) is required to play this audio clip. Download the latest version here. You also need to have JavaScript enabled in your browser.