(Gator Rewind:  sports archive feature originally aired in the Spring of 1999)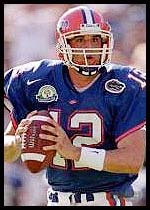 In the spring of 1999 University of Florida QB Doug Johnson found himself in the center of debate.  After winning the National College Football Championship under the leadership of QB Danny Wuerffel, many fans were disappointed in Johnson's new role as Wuerffel's replacement.  In 1997 UF Head football coach Steve Spurrier suspended Johnson for the Florida vs. Auburn game for breaking team rules.  Johnson also faced criticism for continuing to play baseball with the Tampa Bay Devil Rays.  Many saw this as a lack of commitment to the football team.  Johnson also suffered a broken left fibula during Florida's 31-10 win over Syracuse in the Orange Bowl in January of 1999.  As Donna Green-Townsend reported in this 1999 feature, Johnson said he was now prepared to show leadership on the team.
Audio clip: Adobe Flash Player (version 9 or above) is required to play this audio clip. Download the latest version here. You also need to have JavaScript enabled in your browser.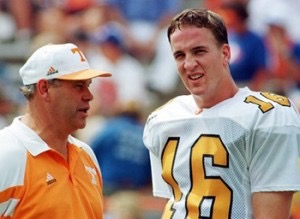 In the feature below called, Tale of Three Quarterbacks, Donna Green-Townsend explores the mood going into the November 22, 1997 game between UF and TN after Wuerffel shocked the Volunteers the year before.  Tennessee's Peyton Manning decided to stay one more year.  UF's Doug Johnson had to face the unique challenge of following behind Wuerffel's big year and taking on Manning in the big game.
Audio clip: Adobe Flash Player (version 9 or above) is required to play this audio clip. Download the latest version here. You also need to have JavaScript enabled in your browser.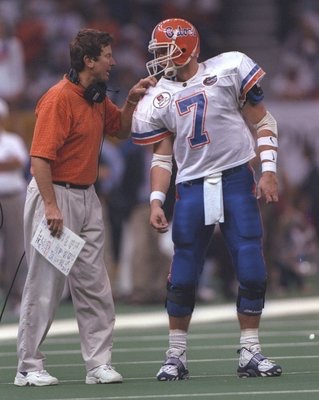 Here's an excerpt of Donna's interview with Coach Steve Spurrier about UF QB Doug Johnson going into the Tennessee game in November of 1997.
Audio clip: Adobe Flash Player (version 9 or above) is required to play this audio clip. Download the latest version here. You also need to have JavaScript enabled in your browser.
Here's the full press conference with Spurrier before the UF-TN matchup.
Audio clip: Adobe Flash Player (version 9 or above) is required to play this audio clip. Download the latest version here. You also need to have JavaScript enabled in your browser.