(aired nationally on August 21, 1998 on Marketplace)Original Anchor Intro:  Six years ago this month, the country's most costly storm ever- Hurricane Andrew- put Homestead, Florida on the map.  Before the storm, Homestead was the winter vegetable capital of the U.S. Tourists may remember seeing the city marker on their way to two national parks and the Florida Keys.  But dreams to revitalize the town's shattered economy by converting the old Air Force Base has brought about a bitter fight with environmentalists, as Donna Green-Townsend reports.
Audio clip: Adobe Flash Player (version 9 or above) is required to play this audio clip. Download the latest version here. You also need to have JavaScript enabled in your browser.
Original script: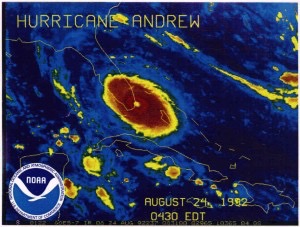 (Krome Ave nats)  Six years ago, Hurricane Andrew decimated the city of Homestead, FL along with the nearby Homestead Air Force Base.    The after-effects of Andrew aren't visible on downtown's Krome Ave. anymore.  But locals say traffic is thinner because somewhere between 8 and 11,000 jobs have disappeared since the federal government decided not to rebuild the shattered air force base.   Retired Air Force Veteran Michael Richardson is also Vice President for the First National Bank of Homestead.  He says without the base, Homestead has lost 400 million dollars a year and its middle class.
"We transitioned from a community that paid with checks to a community that lives on a cash basis. What we've seen in the wake of the hurricane and what the community sees is we've lost that middle class pool of jobs and that middle class group of people that were associated with the base," said Richardson.
It wasn't supposed to happen like this.  First George Bush, and then Bill Clinton, promised to make the conversion of the old Homestead Air Force Base a national model – one that would make the new civilian-run base the engine of the town's rebirth.
The plan was to retrofit Homestead into a commercial airport to help with overflow from Miami International.   But there's a problem.  The airport site sits directly adjacent to two national parks –  That's right – not just one, but two national parks.
(Nat snd of park with birds and quiet)
Everglades National Park sits about 10 miles away from the old air base.  Biscayne National Park is even closer – just 2 miles away.   And tourists say they don't come to national parks to hear jet noise.
(Montage Of Tourists)- "The vastness and the freedom and the tranquility is something to behold.  Maybe not everybody appreciates it, but it certainly should be preserved as far as possible."
"Seems to me the beauty of the Everglades is very subtle and the peace and the quiet is part, an important part of it.  If you have airplanes flying over I think it would really destroy a lot of the beauty."
"I mean you got a local economy and you've got to keep that going but you gotta' find a happy medium between the two.
The issue of airport noise has been around a long time, but lately, environmentalists have been making some headway when it comes to stopping jet noise near national parks.
They won a precedent-setting legal case regarding an airport near the Glen Canyon Recreation Area in Arizona.. and they're fighting overflights at the Grand Canyon.  Homestead Mayor Steve Shiver says this plan only calls for Homestead to take some pressure off Miami's airport, not to become south Florida's second major hub.
"We're not talking… in phase one development we're not talking about another JFK," said Shiver.
But Don Barger with the National Parks and Conservation Association – who successfully fought the Glen Canyon airport – says he doesn't believe the developers who say they'll only put in a one-runway operation.
"Unfortunately airports are just like landfills.  Once you get the first cell in you know where the next cell is going to go….there are proposals, there are maps out there that have shown the second runway," said Barger.
(Nat snd of airport noise at Everglades National Park)
Homestead's leaders point out that airport noise is nothing new in the Everglades and Biscayne National Park.   For half a century, there was the roar of planes from the air force base.   And even today, air traffic from Miami International is audible overhead.
(Nat snd of airport noise up full)
Everglades National Park Superintendent Richard Ring.
"I was in Long Pine Key campground in our amphitheater talking to 200 members of the leadership Miami we had an F-16 come in just above treetop level and it blotted everybody out for about 15 seconds," said Ring.
But that's exactly the point say Homestead's civic leaders.  It's not like the base was ever a garden spot, says Mayor Steve Shiver.
"I mean we're talking about a facility that was actually an air force base for over 50 years.  This is not pristine land; this is not undeveloped property," said Shiver.
But a 30-year leader in the "Save the Everglades Movement," Joe Browder, says there's a big difference between what people are willing to put up with for the sake of national security and what they're willing to give up for a profit making venture.
"If we're defending our country against real or perceived threats, then there's a sacrifice level that everyone's willing to consider.  If we are thinking about moving jobs and investments away from Miami, Hialeah, Opa Locka in order to subsidize some real-estate flippers in South Dade County, that's a completely different rationale for whether there should be damage to birds, national parks or anything else," said Browder.
The question is, aesthetics aside, does jet noise really damage the environment?
(Nat snd of airboat starting up)
Louis Wommer doesn't think so.
(Nat snd of airboat up full)
Perhaps not surprisingly, since Wommer has been running airboat tours of the Everglades for 15 years.
'You were just on an airboat with me which is loud to you I'm sure.  Did you notice how the birds are right there and simply just move out of the way if I'm going fast.  They go right back to the same spot…. They're not bothered by noise, its people who are bothered by noise," said Wommer.
But Biscayne National Park Superintendent Dick Frost wants proof.
"The military jets made tremendous noise. It's possible that we might have had another several hundred thousand tourists visit if there hadn't been noise.  It's possible that we might have had a healthy breeding colony of shore birds if we hadn't had noise.  We don't know that because nobody ever studied it," said Frost.
Late last year, about a dozen environmental organizations won a battle to require the Air Force and the Federal Aviation Administration to study development, water runoff and noise from a new airport.  The environmental impact statement is expected to take another year.   Mayor Steve Shiver says he's tired of waiting.  A deal is a deal.
"It's been five years, we've had President Bush, and also President Clinton come to this community and claim to have claim to want to make re-use of Homestead Air force Base a model reuse and nothing has happened.  That's frustrating, that's very frustrating," said Shiver.
(Restaurant nat snd)
So Homestead has become a national case study Instead of a national model.   And it looks like the plans to rebuild the town's middle class will be circling to land for a long time.  From Homestead, Florida, I'm Donna Green-Townsend for Marketplace.