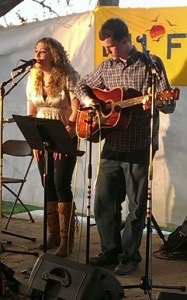 My daughter Jessie and my son Lee have been performing as a brother/sister musical duo for several years now singing and playing at a variety of venues including the Will McLean Music Festival and the Florida Folk Festival, special events at the Marjorie Kinnan Rawlings State Historic Site and a variety of church programs and private events.
Jessie has always loved to sing.  While in high school in Gainesville she participated in several music productions with the P.K. Yonge Performing Arts Program and competed in state and regional vocal competitions.  She performed at Disney World in Orlando during two Christmas candelight performances.
Jessie and Lee Townsend's new "Tribute" CD Now Available
Jessie and Lee have recorded their first professional CD at Gatorbone Studios in Keystone Heights.  Click here to listen to song samples and to find out how to order one.
To see video highlights of Jessie and Lee's stage performances at the 2016 Florida Folk Festival click here:  
To see highlights of Jessie and Lee's stage performances at the 2016 Will McLean Music Festival

click here:
On April 26, 2015 Jessie and Lee Townsend performed "What Wondrous Love Is This" at the Homecoming Services of the New Cross Creek Baptist Church on April 26, 2015
During the Homecoming service Jessie and Lee also performed "Amazing Love"
On March 15th, 2015 Jessie performed Will McLean's "Macclenny Farewell" during the Hour of Power on the Main Stage.
Jessie and her brother Lee Townsend also made great harmony on the Azalea Stage at the 2015 Will McLean Festival performing Towne Van Zandt's, "If I Needed You" with help on the bass and harmony by David McBrady.
The trio even got in some bluegrass with "Drivin' Nails In My Coffin."
2015 was Jessie's second year performing at the Will McLean Festival. She made her debut here on March 8th, 2014 singing a song by the late Steve Blackwell called, "The Line."
Jessie singing I Need You at the 40th dedication services at the New Cross Creek Baptist Church on August 31st, 2014
Jessie singing King of My Heart at the 40th dedication services at the New Cross Creek Baptist Church on August 31st, 2014
Jessie singing Be Thou My Vision at the Homecoming services of the Providence United Methodist Church on October 26, 2014
Donna, Jessie and Lee Townsend singing Never Grow Old at the Homecoming services for the Providence United Methodist Church in Windsor, FL on October 26, 2014
Jessie and Lee performing "Bury Me Beneath the Willow"  along with Andy Garfield in November, 2014
Jessie and Lee performing "A Living Prayer" at the Homecoming Services for the Providence United Methodist Church in Windsor, FL on October 26, 2014
Jessie and Lee performing "Ten Thousand Reasons" at the New Cross Creek Baptist Church on October 14, 2012
)
This slideshow requires JavaScript.