One of the most enduring and loved folk singers in the U.S. has died.  Pete Seeger, who had America singing such iconic tunes as, "If I Had a Hammer" died Monday at the age of 94 at a hospital in New York.  President Barack Obama issued a statement saying, "Pete Seeger believed deeply in the power of song, but more importantly, he believed inthe power of community …to stand up for what's right, speak out against what's wrong, and move this country closer to the America he knew we could be.  Over the years, Pete used his voice, and his hammer, to strike blows for worker's rights and civil rights; world peace and environmental conservation.  And he always invited us to sing along.  For reminding us where we come from and showing us where we need to go, we will always be grateful to Pete Seeger."
In March, 2014 Singer Songwriter from Delray Beach, Rod MacDonald, asked several other musicians and the audience at the Will McLean Folk Festival to join him in a tribute to the late Pete Seeger:
While most people will be recalling the dozens of classics he helped make famous, like Turn, Turn, Turn, Where Have All The Flowers Gone, and Woodie Guthrie's This Land Is Your Land, among others, there are many in the Sunshine State who will remember how Seeger reached out to the "Black Hat Troubadour" in Florida, the late Will McLean.  The two songwriters shared a deep respect for one another.
"Will McLean's songs will be sung as long as there is a Florida."  That's how Pete Seeger described his friend.  That quote was shared at the 1990 memorial service for McLean who was the first folk artist inducted into the Florida Artists Hall of Fame.  President Emerita of the Will McLean Foundation, Margaret Longhill, says, Seeger and McLean were both genuine people with a great songwriting connection.  They both liked to write songs about everyday people and they both liked to have their audiences sing along.  "Pete Seeger's songs will live forever in the hearts of those who seek truth, justice and love," says Longhill.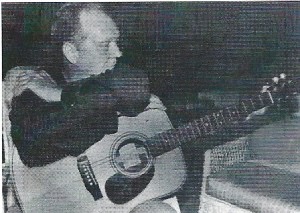 Longhill remembers attending a Pete Seeger concert at Ruth Eckerd Hall in Clearwater with McLean in the mid 1980s.  Prior to the concert Seeger and McLean chatted as friends backstage.  During the concert Seeger said to the audience, "Ladies and gentlemen, I would like you to know  in this audience tonight is America's greatest living songwriter, Will McLean.  Will McLean stand up," recalls Longhill.
Longhill says the story that's been passed down is that McLean and Seeger  became acquainted after McLean wrote a letter to Seeger saying, "I'm a Florida folk singer and I don't have a guitar."  Soon after Seeger sent him a 12-string guitar.  During McLean's memorial service in 1990 many of his musician friends recalled with humor how that guitar was pawned as were many other guitars that followed.
While Pete Seeger will always be remembered for his part in the folk music revival in the 1960s, many in Florida will also think of him for providing McLean and the late Gamble Rogers the opportunity to perform at a folk music concert in Carnegie Hall in New York City.  Seeger loved Mclean's earthy songs about unique characters and places in Florida such as Wild Hog, Tate's Hell and Osceola's Last Words.
Though Seeger travelled and wrote songs all around the country, McLean wasn't interested in seeking fame and fortune and preferred to remain in Florida and write about his beloved "Florida Sand."  But the two songwriters continued to have great respect for one another. Seeger even performed one of McLean's best known Florida songs about Chief Osceola during the nationally televised "Johnny Cash Show" in 1970.  He performs that song with Cash about a minute and thirty seconds into the video.
Here's a segment from a November 1985 interview with Donna Green-Townsend where McLean shares the story of performing at Carnegie Hall in NYC with Pete Seeger
Audio clip: Adobe Flash Player (version 9 or above) is required to play this audio clip. Download the latest version here. You also need to have JavaScript enabled in your browser.
Here's more about that special trip to Carnegie Hall in NYC from the November, 1985 interview with Donna Green-Townsend
Audio clip: Adobe Flash Player (version 9 or above) is required to play this audio clip. Download the latest version here. You also need to have JavaScript enabled in your browser.
The Will McLean Foundation continues to hold a festival each year in honor of the state's "Black Hat Troubadour."  The festival is held each March at the Sertoma Youth Ranch near Dade City.  The festival features three stages along with various music workshops and the winners of an annual songwriting contest.