(Listen to 23 minute interview with Reaves from 1997 below)
Former All-American quarterback at the University of Florida and pro quarterback for the Tampa Bay Bucs and Bandits, John Reaves, was found dead in his South Tampa home on Tuesday. Authorities are investigating the cause of death. Reaves, who was 67, was found by his son David on Tuesday afternoon. He told authorities it looked as if he had passed away in his sleep.
Editor's note:
Reaves was considered to be a legend at the University of Florida.  He was the starter on the 1969 Gator team that finished the season 9-1-1.  By the time his career ended at UF in 1971 he was the NCAA's all-time leading passer and held the SEC record for touchdown passes with 54.
He then went on to be a first-round draft choice in the NFL and played pro football for 14 years from 1972 to 1987.  Ten years were in the NFL and 4 in the USFL.  He played for the Philadelphia Eagles, the Houston Oilers, Cincinnati Bengals, Tampa Bay Bandits, and the Bucs. From 1990 to 1994  Reaves was an assistant coach at the University of Florida. In 1995 he became an assistant football coach at the University of South Carolina where he worked coaching quarterbacks and serving as the passing game coordinator.
He also struggled with demons, namely alcohol, with a variety of sessions in rehab. It was a subject he was not afraid to talk about during a 1997 interview with me,  just before the 1997 NFL draft.
Reaves weighed in on the subject of Gator players leaving school early for a chance at the pros, as in the case that year for Gator players Reidel Anthony and Ike Hilliard who were expected to be first-round NFL draft choices.  It was just four and a half months after the Gators won the College National Championship beating FSU 52-20 under the leadership of signal-caller, QB and Heisman Trophy winner, Danny Wuerffel.
In our interview below from 1997, Reaves talked about the pros and cons of leaving school early. He also addressed how academic standards had changed since he was in college and how he thought that was a good move to help players find more meaningful paths once their football careers were over.  And he addressed his struggle with alcohol after growing up with family members who also faced the same addiction.
Audio clip: Adobe Flash Player (version 9 or above) is required to play this audio clip. Download the latest version here. You also need to have JavaScript enabled in your browser.
Short segments from the interview above were included in an award-winning sports feature titled, "The Dream To Go Pro."
Audio clip: Adobe Flash Player (version 9 or above) is required to play this audio clip. Download the latest version here. You also need to have JavaScript enabled in your browser.
It was one of my favorite features to work on and included interview segments from not only John Reaves, but also Peyton Manning, Danny Wuerffel, Chris Weinke, Billy Donovan, Jeremy Foley and Perry McGriff to name a few.
Reaves, who divorced some time after the interview above, continued to battle drugs and alcohol throughout his life, but turned to religion for solace.  At times in his life he was active with the Fellowship of Christian Athletes.
According to the Tampa Bay Times, his son David Reaves said his father was among the plaintiffs in a suit filed by former NFL players against the league over concussions and brain trauma. The family is looking to donate Mr. Reaves' brain toward research for chronic traumatic encephalopathy (CTE), the degenerative brain disease linked to repeated head hits
He had three grown children and five grandchildren.  A public funeral will be held Saturday at 1 p.m. at South Tampa Fellowship Church at 5101 Bayshore Blvd.
——————————————————————————————————————–
Tampa Bay Times article: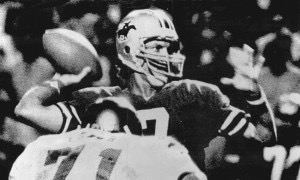 John Reaves, former Robinson, Gators and Bucs quarterback, dies at 67
TAMPA — He sprouted on the college football landscape when psychedelia was at its heyday. In the immediate wake of Woodstock, John Reaves dropped back and tossed spirals with fearless, free-spirited aplomb.
"I never saw him intimidated, afraid, in the least," former University of Florida backup center Larry Morris said.
"He would throw an interception and never think twice about dropping back the next time he got the ball and letting it go. He was just a damn gunslinger."
It was the type of abandon that partially defined the era. On and off the field, Mr. Reaves experimented, took risks, flourished, fizzled. As decades passed, he became a legend.
And a cautionary tale.  Click here to read more of this article in the Tampa Bay Times
———————————————————————————————————
Jacksonville Times-Union article:
Posted August 2, 2017 10:13 am
By  Garry Smits
---
Former Gators QB John Reaves, one of school's most prolific passers, dies at 67
John Reaves, one of the most prolific quarterbacks in Florida Gator history until the Fun and Gun Era under Steve Spurrier, died on Tuesday at his Tampa home. He was 67.
According to tampabay.com, Reaves was found by his son David, who checked on him after he was not heard from in several days. His death is under investigation by the Hillsborough County Medical examiner.
Reaves played at Florida from 1969-1971 and broke the passing records that were held by Spurrier. Reaves is still seventh on UF's all-time school career passing yardage list with 7,549 in three years (freshman could not play varsity sports at the time) and eighth in TD passes (54).
When he left school, Reaves was the NCAA career leader in yardage and touchdowns. UF went 20-12-1 during his three years, including a 9-1-1 record when he was a sophomore.
To read more of the Jacksonville Times Union story Click here: