The winner and 2nd and 3rd place finishers of the 2016 Best New Florida Song Contest (out of 51 entries) performed their songs at the Will McLean Music Festival which ran March 11th through Sunday, March 13th at the Sertoma Youth Ranch near Brooksville, FL. 
The first place winner is Lauren Heintz from Winter Park, FL with her song about Will McLean, the Father of Florida Folk, called, "Florida Born and Bred."
Audio clip: Adobe Flash Player (version 9 or above) is required to play this audio clip. Download the latest version here. You also need to have JavaScript enabled in your browser.
Heintz, who was the 3rd place finisher in the contest in 2015 and placed 4th in 2013 says she was inspired to write her winning song after researching Will McLean and how he journeyed throughout Florida collecting the history, culture and lore of Florida in his songs, stories, and poems. She says last year's controversial state-sanctioned black bear hunt along with potential reductions in protection for the endangered Florida panther caused her to reflect on how Florida needs more people like Will McLean to call attention to these concerns. That's also when her tribute song for Will McLean was born.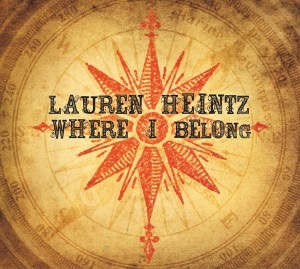 "Florida Born and Bred" is just one of the songs on her newest CD entitled, "Where I Belong," recorded at Gatorbone Studios. She says the songs on this album are the plot points of her story, the twists and turns of an edge walker capturing the many aspects of her search for survival and a sense of place and purpose.
In addition to finishing in the Top Ten in the Will McLean Song Contest three times, Heintz has taken home several other songwriting awards. In January of 2014 she won the Vic Heyman songwriting award at the South Florida Folk Festival. Just months before that she won the song contest at the 2013 Walnut Valley Festival in Winfield, Kansas. She's also received honorable mentions at the Woody Guthrie Song Contest (2014) and the Mid-Atlantic Song Contest (2015).
Though she says she's a bit of a loner, Lauren has had some unique experiences including swimming in volcanic calderas, water-skiing gator-infested rivers, repairing U-2 spy planes near the Yellow Sea while in the USAF, and working in the dot-com tech wars of Silicon Valley. Yet she says what excites her the most these days is stepping onto stages playing her own music at house concerts, listening rooms, and festivals.
The 2nd place finishers of this year's contest are Paul Garfinkel from Jacksonville, FL and Pete Price from Ozello, FL with the song, "Florida Rain."
Audio clip: Adobe Flash Player (version 9 or above) is required to play this audio clip. Download the latest version here. You also need to have JavaScript enabled in your browser.
Garfinkel says the song "Florida Rain" is the culmination of years of concern about, observation of, and work to protect the future of the Florida environment in general and the state's water resources in specific.
"I wanted to create a song that would communicate from the perspective of the land, as opposed to those standing upon it. Florida's natural water systems are extremely complex and sensitive organisms subject to the whims of the state's residents, corporate occupants  and visitors. The water that falls from the sky and into our aquifers, lakes, rivers, and springs is a scarce resource that is increasingly imperiled by overpopulation, landscape use, harvesting by bottling companies, future fracking, and pollution from all sources. We are headed down a path that is not sustainable in the long term, and as the song says: you'll miss me when I'm gone," says Garfinkel. He adds, "Despite an apparent current abundance. I have often spoken the words "I never complain about the Florida rain," and thus came the title of the song."
Garfinkel says he also had significant academic and artistic inspiration to write the song from Cynthia Barnett's books "Rain," and "Mirage: Florida and the Vanishing Water of the Eastern U.S."
Pete Price from Ozello, FL worked with Garfinkel as co-writer on the song. Garfinkel says Price offered his creative talent and skill with language to develop the words and music of the song's bridge, and helped him to fine-tune the lyrics of its verses and chorus.
"To take the imagery one step farther, Pete was the rain and warmth that incubated the seeds of an idea, allowing it to grow and mature into its current form," says Garfinkel. Pete Price has been in and around the Florida Folk Music scene for nearly twenty years, playing with "Jon Semmes and the Florida Friends," "Sno Rogers," and the group, "2PM." He's also written a variety of his own original songs.
A Florida Master Naturalist from Jacksonville, Garfinkel has been associated with the Saint Johns Riverkeeper organization as a volunteer and photographer for more than a decade. Along with Florida singer-songwriter Bob Patterson, he co-founded the Florida Artists Water Alliance, now a 900-member public interest group on Facebook, with the purpose of educating Florida's citizens and decision-makers about important water issues, and to support other water advocacy groups through music and visual art. His recently released CD, "The Last Good Mile," recorded at Gatorbone Studios, features a variety of his environmental songs.
Several of Garfinkel's original songs have placed in the Will McLean Song competition. In 1996 he placed third for "Good Enough for Me." In 1997 "Florida Pines" came in second place and "St. George Street" was third. In 1998 he had a song finish in the top ten and was the winner in 1999 with his song, "The Creek." He says he didn't enter again until 2014 when he had two top ten songs, "Stowe," and "Rain on the Horizon."
Garfinkel has lived in Florida for 30 years, 25 of those years have been in Jacksonville.  He's worked in healthcare administration, clinical research and research ethics and regulation for 35 years.  He recently retired in December of 2015 and is now focusing on his music, photography, environmental activism and community service.  He's a board member of the Stetson Kennedy Foundation and Co-Producer of the Second Sundays at Stetson Concert Series.
The third place finisher of the 2016 Will McLean Song Contest is Ray Sealey from Quebec, Canada with his song, "The Turpentine."  Sealey says he is fascinated with history and spent a lot of time researching the turpentine industry in Florida.
Audio clip: Adobe Flash Player (version 9 or above) is required to play this audio clip. Download the latest version here. You also need to have JavaScript enabled in your browser.
The inspiration for the song first came while Sealey was cycling along the Legacy Trail bicycle path that goes by Oscar Scherer State Park, an old railway right of way.  He says he saw historic markers noting how the turpentine trade was served by this line.   He began to search websites, academic papers and newspaper articles to find out all he could about the business.
He was fascinated by the names of the technical jobs associated with the turpentine business:  scrapers, chippers, pullers, dippers and others.  Sealey says he found out in the beginning it was called the naval stores industry (pine tar).
Through research he discovered the main workers were black, men who were slaves before the civil war,  and peonage workers who were paid in scrip to spend at the company store. Other workers were prisoners who were provided by local law enforcement.  Sealey says the turpentine business was largely a dark part of Florida history because of many stories of deaths, murders, politics, power and wealth in play.
Born in England, Ray Sealey emigrated to Canada, and earned a degree in English Literature from the University of Western Ontario. He was always active in the folk music scene in those years and toured Europe in the late 60's with a Canadian folk group. However, classical music finally took the more important place in his life while studying classical guitar at the Royal Conservatory of Music in Toronto.
He taught music at the University of Western Ontario and subsequently at the University of Ottawa. He also worked as a host and documentary maker for the CBC in Ottawa. It was during this period that he became increasingly active in production and arts management.
In 1997 he moved to Montreal and later to the Laurentian Mountains north of Montreal in Québec to become Executive Director of CAMMAC (Canadian Amateur Musicians/Musiciens amateurs du Canada).  He retired from that organization in 2007 following the completion of a major rebuilding project at the CAMMAC Music Centre in the Laurentians. His last post was as Executive Director of the chamber orchestra I Musici de Montréal.
Now, later in life, he has returned from the classical world to his early roots in folk music. His love of poetry and the folk songs that led him to the guitar are now combined in new musical directions and discoveries. He spends summer in the Laurentians and winter in a camper in any part of Florida that looks interesting. In 2014 Sealey was the third place finisher in the Will McLean Best New Florida Song Contest with his song, "Kissimmee Prairie Dream."
The winner and finishers of the song contest will performed their songs during the 2016 Will McLean Music Festival which ran from March 11th through March 13th at the Sertoma Youth Ranch near Brooksville, FL.
or