Residents all along the coast of Texas are bracing for Hurricane Harvey expected to come ashore either late tonight or early Saturday morning. At 7:30 p.m. forecasters with the National Hurricane Center reported winds are sustained at 130 mph making Hurricane Harvey a category 4 storm.  Catastrophic flooding is expected due to heavy rainfall and storm surge.  The hurricane is moving to the northwest at 10 mph.
Because current weather patterns moving across the country will block the storm from moving north, weather specialists predict rainfall amounts could total as much as 35+ inches in areas closest to landfall and 15 to 20 inches in a widespread area of southern Texas. The system could also stick around until early next week and move along the Louisiana coast dumping more rain.  Mandatory evacuations are already in place and highways are packed with motorists fleeing inland ahead of the hurricane.
Floridians watching the reports about Hurricane Harvey headed toward Texas remember all too well the damage caused by last year's Labor Day Hurricane Hermine  followed by Hurricane Matthew that skirted across a major section of the state's east coast.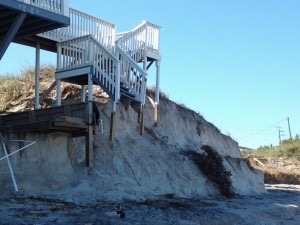 Many beach communities are still recuperating from the beach erosion and damage caused by the storms to highways, roads, piers, homes and other infrastructure.
Twelve years ago Hurricane Wilma took a hard right-hand turn from the Yucatan and made a beeline for South Florida as a Category 3 storm with winds at 120 mph before it made landfall near Cape Romano, FL on October 24th, 2005.  Just a year before Wilma, 2004 became one for the history books as Hurricanes Charley, Frances, Jeanne and Ivan wreaked their havoc on the Sunshine State.
It was also 12 years ago on August 29th when Hurricane Katrina hit the Gulf Coast near Buras, Louisiana and took its toll on New Orleans and the Mississippi coastline, becoming one of the most costly storms in U.S. history.  According to NOAA, the damage estimates from Katrina reached $108 billion dollars.  The official death toll from Katrina is 1,200 making it the 3rd deadliest storm in history behind the 1900 hurricane which hit Galveston, TX leaving 8,000 dead.  The 2nd deadliest storm was the Lake Okeechobee storm in Florida in 1928  killing approximately 3,000 people.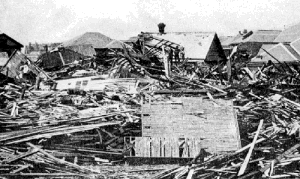 For Floridians who lived in South Florida during Hurricane Andrew, the thought of any tropical system brings back painful memories.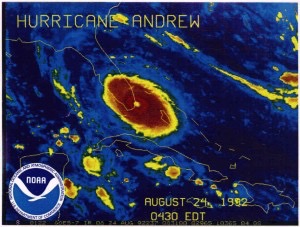 It was on August 24th, 1992 when the catastrophic storm struck Homestead and South Florida with winds of 150 miles an hour with gusts up to 175 miles an hour.  Andrew is listed as the 4th worst hurricane to hit the United States with a damage total of more than 25-billion dollars.  Nearly four dozen people were killed.
In 2011 Homestead resident (and former mayor) Steve Bateman, talked with Donna Green-Townsend about living through Hurricane Andrew and how Homestead has worked toward economic recovery.  At the time of the interview, Hurricane Irene was churning in the Atlantic. (from Donna's audio archives).
Audio clip: Adobe Flash Player (version 9 or above) is required to play this audio clip. Download the latest version here. You also need to have JavaScript enabled in your browser.
Florida has experienced many devastating hurricanes through the years.  Some of the worst storms didn't even have names.  The 1928 Category 4 storm that pushed Lake Okeechobee over its banks offically killed 3,000 people, but is believed by many to have drowned 4,000 souls.  Many were migrant workers who ended up in mass graves following the storm….some marked and some unmarked.  There are many accounts from people recalling the storm describing how they were tied to trees by their families so they wouldn't be swept away.
The late singer songwriter Will McLean wrote his most famous song about that tragedy.  "Hold Back The Waters" has become somewhat of a Florida anthem in folk circles.  McLean was the first folk artist inducted into the Florida Artists Hall of Fame. See a video of the late singer-songwriter singing his famous song below:
The 1928 storm was before television and the weather channel so there was no real advance knowledge about the hurricane. It's been written that the Seminoles living in Florida may have warned the storm was coming but people didn't pay attention.  This storm is the reason there is now a dike all around Lake Okeechobee in South Florida. As the category 4 hurricane moved inland, the strong winds piled the water up at the south end of the lake.  Ultimately the weaker earthen levee gave way flooding an area 6 miles wide and 75 miles long.