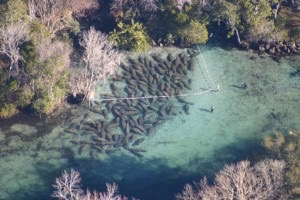 Temperatures in Florida's Panhandle and North Central Florida reached into the lower 30s on several days during the past few weeks. During these cold snaps hundreds of manatees head to the warm spring waters of the state.  It's not unusual to see more than 300 manatees in Kings Bay in Crystal River, Florida.  In recent years the United States Fish and Wildlife Service has added new sanctuaries and reduced speed zones around the state, particularly around the Chassahowitzka National Wildlife Refuge, to provide protection for the endangered sea cow.   But swimming with manatees has become a big business in Florida.  As Donna Green-Townsend reports, ecotourism continues to force environmental planners on Florida's Nature Coast to perform a precarious balancing act.   (From my audio archives:  produced for the national show "Marketplace" in 1997.  See the full script under the followup video story below)
Audio clip: Adobe Flash Player (version 9 or above) is required to play this audio clip. Download the latest version here. You also need to have JavaScript enabled in your browser.
This slideshow requires JavaScript.
In 2010 WUFT reporter Trent Kelly and videographer Donna Green-Townsend followed up the original report above to see what progress was being made to protect Florida's endangered sea cow.

(Full script of the 1997 "Marketplace" radio feature above)
(Snd of airplane gearing up) Viewing Citrus County from the air makes it easy to see why business people are smiling.  On the coldest days this past winter in Florida spotters for the United States Fish and Wildlife Service counted more than 300 manatees in the waterways North of Tampa on Florida's west coast.  And manatees mean big bucks to Citrus County.  Manatee watchers spend about 20-million a year at hotels, restaurants and dive shops.
"We're the original Florida," says County Environmental Planner Gary Maidhof.  "The Walt Disneys and Sea Worlds and Bush Gardens are important for tourism and beaches are important tourism, but people are looking for alternatives and what they want to see is the old time Florida."
(Nat sound under of boating activity with snorkelers/divers)
In the absence of a major theme park, Citrus County's banking on manatee watching.  But last year a record number of the huge gray, air-breathing mammals died.  Manatees, which often weigh in over 3,000 pounds, frequently collide with boats while surfacing for air.  Fish and Wildlife experts estimate only about 2,600 are left in Florida, so these docile creatures receive protection under the Endangered Species Act.  In 1994 the Citrus County Commission appointed an ecotourism committee to promote manatee watching on the county's 7 rivers.
(Nat sound of boat activity with snorkelers/divers)
The group's done well, so well tourists may be loving the manatee to death.  It's against the law to kill, capture or pursue endangered species.  But it's hard to draw the line
Montage of Tourists: "You can't really describe it, it's just wonderful.  You pet them and they roll over and they'll even follow you around.  They're very sweet."
"oh, I'll never forget it.  I've been lookin' forward to it for years."
"You dream about places like this at night."
"I mean I dove last year with sharks and it's not the same.  You can get right up close to these and  look them right in the face and they're so gentle."
Citrus County Ecotourism member James Blount, "We've been in business over three years.  We haven't done much protecting and enhancing, mostly advertising."
Blount says while the group's done a good job of promoting the "manatee experience" now they need to protect their natural resource. "If you destroy something and particularly if it's an endangered species, once it's gone, it's gone forever and we have a responsibility as well," he says.
Blount points to a recent national scuba diving magazine featuring  a cover with divers swimming after and petting manatees which he says breaks a federal law.
"Oh it's real circusy here on a winter weekend," says Cameron Shaw, the Refuge Manager for the Chassahowitzka National Wildlife Refuge in Crystal River.
"We have typically manatees will be outnumbered 20 to 1 by divers and snorkelers in the water."
To try and reduce the number of manatee deaths and harassment cases, the Fish and Wildlife Service produced a short educational video outlining the does and don'ts for people sharing waterways with manatees.
(sound from video)
Port Paradise Dive Shop Manager Tanna Edge says, "They are required to see a nine minute video before they a boat out and we give them maps and rules and regulations and tell them what they can and cannot do."
But talk to the out of state snorkelers renting boats from Edge, and it's hard to find one who's seen the required video:
"No, they didn't offer a video."
"No I haven't"
"No I wasn't aware they had that, I read the pamphlets on them but I didn't know they had a video out."
Refuge Manager Cameron Shaw says, "I was a little surprised that none of the divers that we talked to that came out of commercial dive shops have seen the video."
It's Shaw's job to protect the Endangered Species like manatees.  Violations can result in fines of up to 20-thousand dollars and/or up to one year in prison
"If we went by the letter of the law we'd be writing thousands of tickets out here," Shaw says.
Shaw plans to push the dive shops to do a better job of educating their customers.  If they don't fish and wildlife officials have the authority to revoke the dive shops special use permits to use the main spring.   There's some talk officials may restrict the number of divers and snorkelers in the waterways .  Already the number of sanctuaries has increased to give manatees a chance to get away from humans.  Ecotourism committee member Blount supports such actions to protect not only the manatee but the manatee industry.
"Because the people rent hotels, they eat in restaurants, they rent cars, they shop."
Officials here know they're facing Florida's classic dilemma.  The tourists that are Citrus County's bread and butter also have the potential to wipe-out the very attraction they came for.  From Citrus County I'm Donna Green-Townsend for Marketplace.