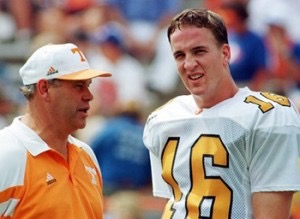 Many sports writers across the country are describing Sunday's Super Bowl XLVIII between the Denver Broncos and the Seattle Seahawks as one of the best NFL matchups in history as it will pit the league's best offense against the best defense.
Sunday's matchup takes place in the outdoor MetLife Stadium in New Jersey and is expected to be a classic matchup of strength vs. strength.
Seattle's quarterback Russell Wilson, in just his second season out of the University of Wisconsin, has taken the Seahawks to their second Super Bowl berth in franchise history.
Denver's quarterback, Peyton Manning, will be playing in his third Super Bowl.  Manning, who is in his 16th season in the pros, has a chance to become the first starting quarterback in the NFL to win the Super Bowl with multiple franchises.  He won Super Bowl XLI with the Indianapolis Colts.
This may be his third Super Bowl, but there are those in "Gator Country" who won't let the legendary quarterback forget that there are some accomplishments that eluded him, namely that Manning never beat Florida, never won a College Football National Championship and he never won the coveted Heisman Trophy, even after choosing to stay in college and forego the 1997 NFL draft even though he was considered to be a first round draft choice.  To his credit Manning did lead the Volunteers to an SEC Championship his Senior year, though that was the same year (1997) he lost in the Swamp to the Gators 33 to 20.
From my audio archives, here's the 1997 feature produced just before Peyton Manning and the Tennessee Vols  played the Florida Gators hoping for retribution in the Swamp.
Audio clip: Adobe Flash Player (version 9 or above) is required to play this audio clip. Download the latest version here. You also need to have JavaScript enabled in your browser.
 Another Gator signal-caller who DID win an SEC Crown, a College Football National Championship AND a Heisman Trophy was none other than Tim Tebow.  Ironically, the Denver Broncos let Tebow go and signed free-agent Peyton Manning despite Tebow's exciting comeback wins which took the Broncos to the NFL playoffs in 2012.
Tebow continues to be vocal about his desire to continue playing in the NFL.  But after  leaving the Broncos Tebow saw little playing time after he was traded to the New York Jets.  On April 29, 2013, the Jets released Tebow who then signed a two-year, non-guaranteed contract with New England which lasted only a little more than two months.  In late December Tebow was hired by ESPN as a college football analyst.
Tebow may not be on the field during the Super Bowl, but he's already making headlines for a humorous television ad he will appear in during the game in which he points out how busy he is despite not having an NFL contract.  Tebow talked about the ad during  a guest appearance this past week on ABC's Good Morning America program.
http://abcnews.go.com/GMA/video/tim-tebow-shows-wild-side-super-bowl-ad-22310859