Update November, 2016: Florida's East coast experienced serious beach erosion from Hurricane Matthew and many businesses and homes suffered severe damage from the huge tidal wave associated with the hurricane.  In particular, Florida Highway A1A in Flagler County was washed out and many homes along North A1A from Vilano Beach northward have been declared uninhabitable because the sand dunes were washed away underneath the homes. Many streets in St. Augustine are filled with debris piles waiting to be removed.  Several businesses along the waterfront in downtown St. Augustine have not yet reopened as they are still under rennovation from the water that pushed through during high tide during the storm.  Below are pictures of just some of the damage caused by Hurricane Matthew just north of St. Augustine on North A1A as well as on South A1A. See also pictures of the hired road crew working feverishly to fix the highway on Flagler Beach that gave way during the hurricane.  Not only is the highway up and running, but dump trucks and shovels are putting down large rocks alongside the highway to help hold the sand and roadway in place.
This slideshow requires JavaScript.
Additional footage and information about the overal impact of Hurricane Matthew can be viewed on this Weather channel link.
—————————————————————————————————————–
Original story: Friday, October 7th, 2016
At 5 p.m. the National Hurricane Center reports extremely dangerous Hurricane Matthew is causing devastation on Florida's northeast coast.  Matthew is located at 30.2 N, 80.7 W.  Winds are 110 (175 km). Jacksonville reports indicated wind gusts up to 82 mph at times.  The storm is 948 mb (28.0).  Hurricane Matthew is expected to turn toward the N/NE and then NE on Saturday.  Matthew should begin to weaken in the the next 48 hours. Meanwhile Matthew is continuing to bring high winds inland and serious storm surge to beaches on Florida's northeast coastline.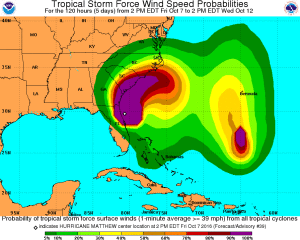 The National Hurricane Center reports Hurricane-force winds extend outward up to 60 miles (95 km) from the center and tropical-storm-force winds extend outward to 185 miles (295 km).  The minimum central pressure recently reported by reconnaissance aircraft was 947mb (27.97 in).  Matthew is expected to remain a hurricane until it begins to move away from the U.S.
Floridians and visitors can go to FloridaEvacuates.com or download the Florida-Evacuates app to enter their location and see shelters available in their area.
Following the most recent update from the National Hurricane Center on
Hurricane Matthew, Governor Scott has activated an additional 1,000 National Guard members. 3,500 members have now been activated.  This is over half of the available troops that may be activated.  Governor Scott has continued to activate more members to help with important life-saving operations, including evacuations and preparing for search and rescue missions.  Governor Scott is requesting President Obama to send additional federal resources to Florida, including generators and pumps, that the state can preposition to help impacted areas.
The Florida Department of Health will be updating hospital evacuation information at FLHealth.gov
TOLLS
Governor Scott directed DOT to suspend all tolls in the affected areas of the state, which includes the entire Florida Turnpike, Alligator Alley, Central Florida Expressway Authority and the Miami-Dade Expressway Authority.
Many beach communities are being evacuated because of expected storm surge.  Governor Scott says people need to have a plan, know where evacuation centers will be located and have food and supplies to last at least 3 days including water, medicine and batteries.  Scott says gather together important documents such as insurance papers.   Make plans for how to deal with your pet in an emergency evacuation.  A complete list of disaster planning suggestions are located on the Florida Division of Emergency Management Website.
Even though Hurricane Hermine hit on Labor Day Weekend this year, it's been 12 years since Florida experienced a major tropical system. That's when Hurricane Wilma struck South Florida.  Just a year before Wilma, 2004 became one for the history books as Hurricanes Charley, Frances, Jeanne and Ivan wreaked their havoc on the Sunshine State.
It was 11 years ago on August 29th when Hurricane Katrina hit the Gulf Coast near Buras, Louisiana and took its toll on New Orleans and the Mississippi coastline, becoming one of the most costly storms in U.S. history.  According to NOAA, the damage estimates from Katrina reached $108 billion dollars.  The official death toll from Katrina is 1,200 making it the 3rd deadliest storm in history behind the 1900 hurricane which hit Galveston, TX leaving 8,000 dead.  The 2nd deadliest storm was the Lake Okeechobee storm in Florida in 1928  killing approximately 3,000 people.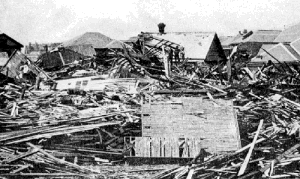 For Floridians who lived in South Florida during Hurricane Andrew, the thought of any tropical system possibly heading toward the Sunshine State brings back painful memories.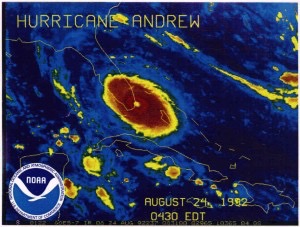 It was on August 24th, 1992 when the catastrophic storm struck Homestead and South Florida with winds of 150 miles an hour with gusts up to 175 miles an hour.  Andrew is listed as the 4th worst hurricane to hit the United States with a damage total of more than 25-billion dollars.  Nearly four dozen people were killed.
In 2011 Homestead resident (and former mayor) Steve Bateman, talked with Donna Green-Townsend about living through Hurricane Andrew and how Homestead has worked toward economic recovery.  At the time of the interview, Hurricane Irene was churning in the Atlantic. (from Donna's audio archives).
Audio clip: Adobe Flash Player (version 9 or above) is required to play this audio clip. Download the latest version here. You also need to have JavaScript enabled in your browser.
Florida has experienced many devastating hurricanes through the years.  Some of the worst storms didn't even have names.  The 1928 Category 4 storm that pushed Lake Okeechobee over its banks offically killed 3,000 people, but is believed by many to have drowned 4,000 souls.  Many were migrant workers who ended up in mass graves following the storm….some marked and some unmarked.  There are many accounts from people recalling the storm describing how they were tied to trees by their families so they wouldn't be swept away.
The late singer songwriter Will McLean wrote his most famous song about that tragedy.  "Hold Back The Waters" has become somewhat of a Florida anthem in folk circles.  McLean was the first folk artist inducted into the Florida Artists Hall of Fame. See a video of the late singer-songwriter singing his famous song below:
The 1928 storm was before television and the weather channel so there was no real advance knowledge about the hurricane. It's been written that the Seminoles living in Florida may have warned the storm was coming but people didn't pay attention.  This storm is the reason there is now a dike all around Lake Okeechobee in South Florida. As the category 4 hurricane moved inland, the strong winds piled the water up at the south end of the lake.  Ultimately the weaker earthen levee gave way flooding an area 6 miles wide and 75 miles long.
Closer to North Central Florida residents who are watching the current track for Tropical Storm Hermine can't help but remember the chaos wreaked on the area from Tropical Storm Frances and Jeanne in 2004.  Many residents and businesses lost power for days causing grocery stores to lose fresh and frozen food products.  ATMs were down.  Traffic lights were out.  Trees fell across many streets and homes and houses were flooded in low lying areas.
From her audio archives here's a snippet of what the community was experiencing just after Frances moved through North Central Florida in September of 2004.
Audio clip: Adobe Flash Player (version 9 or above) is required to play this audio clip. Download the latest version here. You also need to have JavaScript enabled in your browser.
An early report on flooding in Northwest  Gainesville after the rain from Tropical Storm Frances in 2004.
Audio clip: Adobe Flash Player (version 9 or above) is required to play this audio clip. Download the latest version here. You also need to have JavaScript enabled in your browser.
A few weeks before Tropical Storms Frances and Jeanne came through North Central Florida, Hurricane Charley wreaked havoc on Southwest, FL, especially Charlotte County.   Many firefighters, law enforcement officers and medical personnel travelled to the area to give relief and assistance.  Here's another audio archive story from 2004.
Audio clip: Adobe Flash Player (version 9 or above) is required to play this audio clip. Download the latest version here. You also need to have JavaScript enabled in your browser.