By Justin Galicz, Tori Saputo, Yelena Orrelly  and Donna Green-Townsend on August 30th, 2013
The Lake Butler community mourned the death of Marvin Pritchett on Friday.  Pritchett was a life-long resident of the community and business leader who was shot and killed by former employee Hubert Allen Jr. this past weekend.
More than 1,000 people paid tribute to the life of Marvin Pritchett at the First Christian Church in Lake Butler. The main church was filled to capacity an hour before the ceremony began. Guests who did not get a seat in the main church were redirected to a second building and lawn area where the ceremony was streamed live.
Thousands of flowers filled the church, including a red rose arrangement that completely draped the casket. Pictures from Mr. Pritchett's life were projected onto the wall behind the casket as those in attendance waited for family members to arrive.
During the service many of Pritchett's accomplishments and contributions were highlighted, including his support for Union County Schools, the University of Florida and First Christian Church.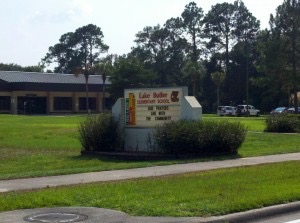 The ceremony was led by pastor Art Peterson and included thoughts and anecdotes from Pritchett's family. Jon Pritchett, son of Marvin Pritchett, shared the story of his father's humble upbringing. Marvin Pritchett was orphaned at the age of 10 and raised by his grandmother.
"What made my dad so remarkable was not that he overcame such hardships, but rather that he never used his circumstances as an excuse," said Jon Pritchett during his Eulogy.
Marvin Pritchett founded Pritchett Trucking, Inc. in 1973, a business that expanded to employ hundreds of people in the Lake Butler Area.
Pastor Peterson brought a smile to everyone's face when he said: "I don't know if there will be any trucks in heaven's highways, but if there is, that's where we'll find Marvin."
Pritchett left behind 13 grandchildren, seven who spoke at the service in remembrance of their "poppa". One of his grandkids said "he was large in stature and even larger in life."
It's been nearly a week since Hubert Allen, 72, a former employee of Pritchett Trucking, went on the shooting spree that killed three and injured one before turning the gun on himself. Marvin Pritchett, 80, David Griffis, 44, and Rolando Gonzalez-Delgado, 28, were killed and Lewis Mabrey was injured in the shooting.
During the ceremony Pastor Peterson spoke about the tragedy calling it an act of evil, and asking community members to look at the good happening around them.
The Pritchett family has created a victims' fund at TD Bank in Lake Butler in honor and support of the David Griffis, Rolando Gonzalez-Delgado, and Lewis Mabrey families.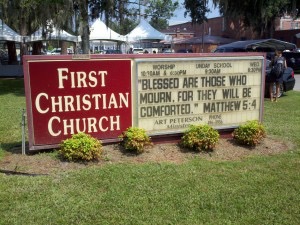 Click here to see a Storyboard Summary of the Memorial Service for Marvin Pritchett.