(originally aired on WUFT December 13th, 1996)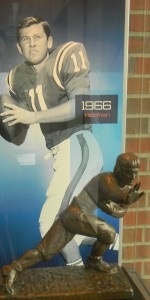 In December of 1996 University of Florida Quarterback Danny Wuerffel was a strong contender for the Heisman Trophy.  It had been 30 years since UF had another player up for the Heisman— young Gator QB Steve Spurrier.  At a 1996 press conference following the Gators 24 to 21 loss to FSU, and just before the Alabama SEC Championship game, Steve Spurrier talked with Donna Green-Townsend and shared his thoughts about his QB Danny Wuerffel's Heisman chances 30 years after he himself had won the coveted trophy as QB for the Gators.  Spurrier also addressed Wuerffel's NFL chances.
Audio clip: Adobe Flash Player (version 9 or above) is required to play this audio clip. Download the latest version here. You also need to have JavaScript enabled in your browser.
Coach Spurrier also addressed whether he and Wuerffel had any similarities in this Heisman contender profile of Danny Wuerffel produced by Donna Green-Townsend for NPR's Morning Edition which aired on December 13th, 1996, the day before the official announcement that Wuerffel had won.
Audio clip: Adobe Flash Player (version 9 or above) is required to play this audio clip. Download the latest version here. You also need to have JavaScript enabled in your browser.
On December 10th, 2013 Danny Wuerffel was named to the 2013 College Football Hall of Fame Induction Class.   Voters said he had one of the most impressive records ever compiled.   Wuerffel was the only player in college football history to start at quarterback for a conference champion four straight years — plus win a national title and the 1996 Heisman.  In addition, Wuerffel, a two-time first-team academic All-American, was awarded the Draddy Trophy (also called the "academic Heisman") presented annually by the College Football Hall of Fame, to the nation's top football scholar-athlete.
And then there were his statistics.  In Wuerffel's career at UF he completed 60.5 percent of his passes for 10,875 yards, 114 touchdowns and 42 interceptions in starting 36 of his 46 games.
During Wuerffel's four seasons, Florida won four-consecutive SEC title games.  As a senior, Wuerffel's 3,625 yards passing yards were an SEC record.  He also set a national record for his 39 touchdowns.   In his final two games in a Gator uniform, Wuerffel threw for 401 yards and 6 touchdowns to beat Alabama (which at the time was the No. 1-ranked pass defense) for that fourth-straight league crown.   In the Sugar Bowl national championship rematch over rival Florida State, Wuerffel  threw for more than 300 yards and 3 touchdowns (also rushing for a TD) in a 52-20 victory against the top-ranked defense in the country
This slideshow requires JavaScript.