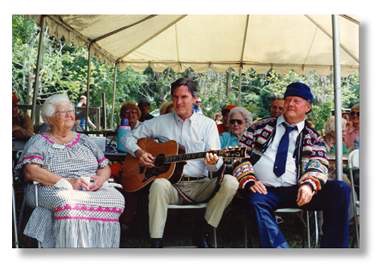 Every spring St. Augustine  plays host for the annual Gamble Rogers Festival.  The festival honors the late singer songwriter who joins the late Will McLean in the Florida Artists Hall of Fame.
Rogers is known for his Travis-style guitar fingerpicking along with his storytelling which brings a mythical Florida county called Oklawaha into the national spotlight.
On October 10, 1991 Rogers lost his life while trying to save a drowning tourist off Flager Beach.
On Memorial Weekend 1998, during the Florida Folk Festival, the then Florida Secretary of State, Sandra Mortham, publicly inducted the late Gamble Rogers into the Florida Artists Hall of Fame.
Rogers has joined the likes of Marjorie Kinnan Rawlings, Will Mclean and Ray Charles in the Florida Artists Hall of Fame. He already has a middle school, state recreation area and a folk festival named in his honor.
Donna Green-Townsend reports on the successful musical career leading up to the induction.
Audio clip: Adobe Flash Player (version 9 or above) is required to play this audio clip. Download the latest version here. You also need to have JavaScript enabled in your browser.
During the induction ceremony at the Florida Folk Festival in White Springs Dale Crider performed, "Song for Gamble," written by Steve Gillette and Cindy Mangsen.  Crider was accompanied by Elisabeth Williamson on guitar and vocals and Barbara Johnson on bass.
Here's audio of the trio practicing the song earlier that afternoon in the campground before the evening ceremony:
Audio clip: Adobe Flash Player (version 9 or above) is required to play this audio clip. Download the latest version here. You also need to have JavaScript enabled in your browser.
In this rare footage, taken by an amateur photographer at the 50th anniversary of "The Yearling" at the Marjorie Kinnan Rawlings State Historic Site in Cross Creek in 1988, Rogers joined his folk colleagues, the late Cousin Thelma Boltin and the late Father of Florida Folk Will McLean, to share stories and songs.  The short video opens with McLean singing his beloved, "Florida Sand" followed by McLean introducing his friend Gamble.
Here's a video of Gamble performing Black Label Blues:
In the following interview Gamble's friends Steve Gillette, Cindy Mangsen and Dale Crider reflect on their long time relationship with the nationally acclaimed guitar player.
Audio clip: Adobe Flash Player (version 9 or above) is required to play this audio clip. Download the latest version here. You also need to have JavaScript enabled in your browser.
This slideshow requires JavaScript.