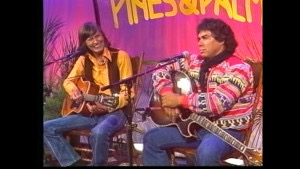 The 1988 Pines and Palms television program hosted by the late Don Grooms featured several singer songwriters who have since passed on. They may have left this earthly life, but their music lives on. Their songs can still be heard on the stages of many music festivals around the state.
In 1988, Grooms who was working as a telecommunication professor at the University of Florida, gathered together several of his greatest music friends including Bobby Hicks from the Tampa area, Seminole Chief James Billie from South Florida, Frank and Ann Thomas from Lake Wales and Dale and Linda Crider from Windsor.
This slideshow requires JavaScript.
The program was recorded in the studios of WUFT-TV in Gainesville. This is a very rare recording as many of the archival tapes from that time period have been destroyed or have been lost. Thanks to Frank Counts who was the producer-director for this program, this copy still exists. Frank was a telecommunication assistant professor at UF and worked for 37 years as the Production Manager for WUFT-TV before his retirement in 2010.
The program ran nearly an hour.  To make it easier to watch, the program is broken up into four separate segments below:
Pines and Palms Part 1
Part 1 includes Bobby Hicks singing, "I'm Florida Need I Say More," Frank and Ann Thomas singing, "Cracker Cowman," and Don Grooms singing, "Winnebago."
Pines and Palms Part 2
Part 2 includes James Billie singing his "Big Alligator" song and a song about a bashful star.  Also featured are two songs from Dale and Linda Crider: "Under the Southern Bald Eagle" and "Last Live Photo"
Pines and Palms Part 3
Part 3 includes Don Grooms as he sings "Vitachuko." Bobby Hicks sings his Condo/Hurricane song.  Frank and Ann Thomas sing their song "Buttermilk Biscuits" and their song about "Sam Jones."  James Billie sings his song "Back To The Swamp."
Pines and Palms Part 4
Part 4 includes Bobby Hicks singing a song about "Zachariah Creech," Dale and Linda Crider perform their "Proof In the Wild Turkey Sign," and Don Grooms sings, "Walk Proud My Son."