Remembering Don Grooms         
(originally aired on Florida Public Radio in January of 1998)
Don Grooms won the prestigious Florida Folk Heritage Award in 1996.  Grooms, who taught for more than three decades in the College of Journalism and Communications at the University of Florida, was influenced by the late "Father of Florida Folk," Will McLean.  Grooms passed away on January 10, 1998.  Donna Green-Townsend talked with some of the musicians who knew him best.
Audio clip: Adobe Flash Player (version 9 or above) is required to play this audio clip. Download the latest version here. You also need to have JavaScript enabled in your browser.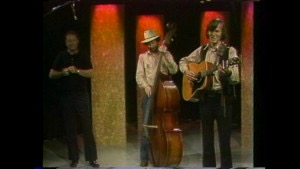 In the late 1980s Don Grooms brought his musical buddies Will McLean and Tim DeMass into the studio to record his song Vitachuko. Tim DeMass is on bass and the Father of Florida Folk, Will McLean, played harmonica.  Grooms said in an interview that when he first played the song for McLean Will said, "Grooms you have finally justified your existence."
Don Grooms and Tim DeMass also recorded Don's song Hills of Caroline and Tsali.
Singer songwriter and musician Tom Shed played a pivotal role in helping Don Grooms produce his CD "Walk Proud."  In this special, which aired in the late 90s, Shed talks about why this project was so special.  You'll also hear many of Don Grooms' best songs.
Audio clip: Adobe Flash Player (version 9 or above) is required to play this audio clip. Download the latest version here. You also need to have JavaScript enabled in your browser.
In September of 1988 Grooms hosted a a television program called, "Pines and Palms" on WUFT-TV.  Guests included Frank and Ann Thomas, Dale and Linda Crider, James Billie and Bobby Hicks.  The hour long program can be seen by clicking this link.
Ten years later, in May of 1998, five months after Grooms died,  Don's friends in the folk music community gave him a tribute on the main stage at the Florida Folk Festival.  The tribute became part of "The Gatherings" series of programs aired on WUFT.  Here's the link to that tribute.
Audio clip: Adobe Flash Player (version 9 or above) is required to play this audio clip. Download the latest version here. You also need to have JavaScript enabled in your browser.
Below is the full transcript of the tribute program on Don Grooms featured above which was included in the 26-part series called, "The Gatherings"
This week on the Gatherings we feature a special tribute to Don Grooms, a man who's influence on Florida Folk music and art earned him the 1996 Florida Folk Heritage Award.
Florida lost a folk music giant in 1998 with the death of folk singer/songwriter Don Grooms of Gainesville.  Grooms was a mainstay of the state's oldest official folk festival.  Less than a year before his death the thousands gathered in White Springs heard and sang along with the artist whose Cherokee looks and humorous lyrics made him stand out from the rest.   He wrote songs about his native American heritage, love songs and he had a flair for social commentary—both serious and humorous.  One of the crowd favorites was Grooms' song Winnebagos"  which poked fun at the tourists and snowbirds traveling the interstate to Florida.
In May of 1997, Florida's Don Grooms performed at the Florida Folk Festival for the last time.  One of the songs he performed that Memorial Weekend was his song Winnebago, a social commentary on tourism. Although he was a crowd favorite in recent years, many folk music lovers may not know the story behind his success at White Springs.  In one of his last interviews before his death, Grooms shared how while working as a judge at an old time fiddler's convention in Union Grove North Carolina, he was approached by a singer/songwriter who soon became his closest music buddy…..the late Will McLean.  It was McLean who introduced Grooms more than two decades ago at White Springs and brought him out of a self-imposed musical slump.  Grooms said,
" I reached a point once before, twice before where you get a standing ovation and then after a while it becomes necessary and uh, so I walked away from it and Will insisted I go to the festival with him and then right in the middle of his set he said, "And there's this guy I'd like you to hear," so uh he did that about the next three festivals I was at and then I was hooked again."
Grooms' primary income came from his teaching position at the University of Florida College of Journalism and Communications in Gainesville, a position he held for thirty years.  But his true love was always folk music and he found ways to mesh the two loves when 27 years ago in what could be classified now as a bittersweet program, Don served as host and producer of a television special called Florida Sand on WUFT-TV in Gainesville.  The program featured Groom's friends and folk music legends Gamble Rogers, Will McLean and Dale Crider:
Singer songwriter and friend Dale Crider says his fondest memory of Grooms will be the day they both helped to disperse the ashes of Will McLean into the Ocklawaha River in 1990.
"I appeared on the stage with Don a number of times, but the way I felt closest with him was in touching Will McLean's ashes.  We both had our hands in Will McLean's ashes down at Gore's Landing at the same time and we sort of like pitched it into the water and fed the minnows.  And Don was always a smoker and Will was always a smoker and Don had gone and gotten some cigarettes and pitched the cigarettes after Will.  I wouldn't have thought of that you know, but it was very important that Will have some smokes on his way downriver and some cheap wine."
Although Crider says he wasn't particularly fond of such Grooms' songs as "A Wet Dog Stinks"….he says he will always remember Grooms' humor.
"He had a lot of good musicians that played with him, but he was mostly an entertainer, he wanted to make people laugh and he wanted to write songs that would make them laugh too."
Longtime pickin' buddy and studio engineer for many of Don's songs, Ray Valla of Gainesville particularly liked Don's liver song, "I Draw The Line."
"Basically the song is about all these wild meat from the forest that Indians basically eat, raccoon and possum and deer and all these animals that would be outrageous to think about eating now.  It's sort of a funny song.  Anyway, he goes into a long description of all this meat that he's eaten in the wild and uh the lyrics and the song someone serves him liver and the song says that's where he draws the line.  He's not going to eat that.  Pretty funny.  But Don had some great material."
Grooms'  musical kinmanship included close relationships with not only Dale Crider and Ray Valla,  but other Florida folk greats including the late Gamble Rogers, Paul Champion and Jim Ballew.  But it was Will McLean who inspired Grooms, a native American himself, to write one of his more serious and favorite songs about the bloody skirmish between Desoto and the native Americans in Paynes Prairie in North Central Florida.  Grooms said,
"When Will first came into my life, I'd written songs before, but they were some of them pretty good, but I wrote, "They'll Have To Carry me Back to 'Ole Virginia"…and Will would say, that's pretty good, but it doesn't have a lot of meaning to it so uh, I had read all about Paynes Prairie and DeSoto's bloody trip through Florida.  So I started researching in the P. K. Yonge library of Florida history book about the various things that had occurred there and I was sifting through it in my head until I came up with a five minute song called "Vitachuko."  And I played it for Will and he said play that for me again and I finished and he said, "Grooms you have finally justified your existence."  But I took 400 years of Paynes Prairie history and put it into a song and finally got it down to four minutes, but I still get requests for it every now and then.  When I recorded it Will played harmonica. And he loved it and always insisted I do it and his harmonica just hung in the air."
"Vitachucko" is one of the songs on Groom's "Walk Proud My Son," his most famous CD.  The producer for that endeavor was Tom Sheddan, one of Don Groom's pickin' buddies and a former College of Journalism and Telecommunications student.  Sheddan says it was a labor of love.
"After hearing Don's song "Vitachucko" and some of his older songs like "Dirty Dan the Bicycle Man," I heard someone that was expressing a voice that I really felt inspired to do something about to help him take that voice and share it with a lot of other people."
Sheddan gathered the musicians together two decades ago and produced the recording in one take.  He says he felt if he handled the business of making that CD, Grooms could concentrate on the art.
"We borrowed and Ampex 601 and brought it over to his house and started recording and setting up mics and bringing people in and assembling all the pieces.  And as we put all the pieces together I explained to him how I would do it and what I would do.  So we pressed a thousand copies.  I mastered it at Randy Clings at RCA studios in Nashville, Tennessee.  And we mixed it with Ray Valla on a four track reel to reel.  It had to be done Grand 'Ole Opry style.  I tried isolating Don.  That term refers to everybody playing at the same time.  It's like a one-take experience.  We had like nine people in the studio only a little bigger than the one we're in now like a 12 by 12 studio with 9 people, trying not to step on each other and bleed into each other's microphones and not let the energy die, trying to hold the album together.  But uh, we had a really good time making it.  It was really good energy.  The main thing is Don means everything he's saying and you can actually hear it in his voice."
Music friend Loyd Baldwin played fiddle with Grooms through the years.
"Many of Don's songs dealt with the treatment of native Americans, what they went through for 400 years since Europeans have been here in the states.  Uh, Don is Cherokee on his mother's side.  In fact he grew up on a reservation up near Cherokee, North Carolina.  In fact one song that he wrote called "Tsali" is in honor of a Cherokee chief.   I remember  vividly the way Don used to introduce this song.  We played a gig together at a little town called Paisley on the south end of the Ocala National Forest on July 4th, 1976 and I remember standing on the back of a flatbed truck and hear Don stand up, his voice just as clear as a bell, saying well Jesus may have died for you Americans but Tsali died for me."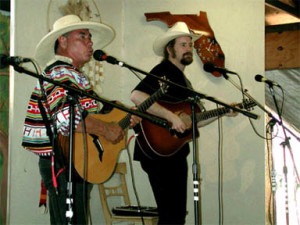 Another of Grooms' closest musical buddies was the Chief of the Seminole Indian Tribe in Florida, James Billie.  Chief Billie said Grooms had a spiritual connection to people and he called his friend a lyrical genius.  Chief Billie credits Grooms for the musical switch he made in his own musical career.
"Don says, hey you sound like you could sing some folk songs and get away from the rock and roll and so from that I started writing and "Halpatachobee" was the one he really helped me.  I had written the entire song except for the words halpatachobee didn't even pause, just that phrase I couldn't believe it.  This man was a genius with words."
Grooms described folk music this way.
"Our kind of music's got meaning and stuff in it.  More than just my  baby left me so I'm going to let the air out of her tires uh, but at least ours have meaning and impart information.   You've got to entertain people as well as inform."
Grooms received national attention when Sing Out Magazine featured the song he wrote and dedicated to his mother.  Walk Proud my Son has practically become an anthem at folk festivals.
"Well the one that almost everybody does, even Gamble.  Somebody said they had a recording of Gamble singing Walk Proud My Son.  And I know he did it on most of his shows.  I even got a call from a guy in Chicago.  Well they traced me down through Sing Out Magazine.  So he uh, said that one, everybody likes it. A friend of mine sent a copy of that to President Bush and later on to President Clinton and said if you people would learn something from this song you'd use up some of them old battleships and airplanes and recycle them.  He got a couple of nice letters back from them."
At nearly every Florida Folk Festival around the state you can find someone singing "Walk Proud My Son" on some stage.  Another tradition inspired by Grooms takes place on the gazebo stage above the Suwannee River.  Grooms' longtime music buddy Frank Thomas leads the audience through the Florida state song on the festival's last day, something started by Grooms.
Don Grooms' life inspired not only Frank Thomas, but others like Gainesville singer/songwriter Mark Smith.  The songs truly touched Grooms.
"Frank Thomas wrote a song about me that I am the new patriarch of the folk people and then Mark Smith wrote one that I'm the only spot in Dixie where the mountains meet the sand.  And uh, a couple of years ago, maybe it was last year, they took part of their set and did their songs and I told them I ought to have the decency to go ahead and die or something.  (laugh)
Singer/songwriter Mark Smith said,
"I had not been around Will McLean or Gamble Rogers particularly.  Don was one of my folk heroes.  He was the person sort of the senior performer person when I came along.  And I thought this was a tribute I could give to him while he was living.  It was a privilege for me to be able to share that with him."
Tim DeMaas from South Carolina remembers the good 'ole pickin' days with Don Grooms.
"If there's one word to desbribe Don it's passionate."
DeMaas was not only a former student of Grooms, but he actually took up the bass fiddle so he could play music with him.  During a radio interview in a memorial tribute to his friend, DeMaas recalls how Grooms could have audiences in tears one minute and laughing the next.  He especially remembers how difficult it was at times because Grooms did not like to rehearse ahead of time.
"Don did not believe in practicing…it was one of his most enduring qualities."
This slideshow requires JavaScript.
In March of 1997, Donna Green-Townsend interviewed Don Grooms as part of a reflective feature on the late
Will McLean
 who died in 1990.  McLean, who is considered the "Father of Florida Folk" and who was the first folk artist inducted into the
Florida Artists Hall of Fame
, was a good friend of Grooms.  McLean inspired Grooms to write one of his best songs, "Vitachuco" about the bloody skirmish between Spanish explorer Hernando de Soto and his men and the Native American Indians living on Payne's Prairie."  When Grooms recorded it, Will McLean played the harmonica in the song.
Audio clip: Adobe Flash Player (version 9 or above) is required to play this audio clip. Download the latest version here. You also need to have JavaScript enabled in your browser.